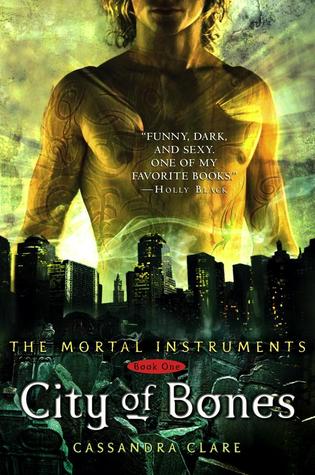 SCENARIO ONE:
An Over-Hyped book: Let's start this off with a Zombie Apocalypse! Let's say you're in a book store, just browsing, when BAM! ZOMBIE ATTACK. An announcement comes over the PA System saying that the military has discovered that the zombies' only weakness is over-hyped books. What book that everyone else says is amazing but you really hated do you start chucking at the zombies knowing that it will count as an over-hyped book and successfully wipe them out?!
I've been sat with this post open for about half an hour trying to think of this answer and I can't believe I didn't think of it sooner. I'd easily throw City of Bones by Cassandra Clare at the Zombie. So many people adore this book but I honestly don't see what the fuss is about. I tried reading it and it was just really, really disappointing.
Insurgent by Veronica Roth. God... I've not even finished this but I have to put it as my answer. This has been picked up and put down but it is SO slow. I'm really sad because this was a book I got for my birthday last year and as much as I was looking forward to reading it it's just not... not great so far.
SCENARIO THREE:
A Classic: Let's say you're in a lecture and your English teacher is going on and on about how this classic changed the world, how it revolutionized literature and you get so sick of it that you chuck the classic right at his face because you know what? This classic is stupid and it's worth detention just to show everyone how you feel! What classic did you chuck?
Of Mice and Men. Classics are meant to be books that are meant to be treasured and well loved.When you go and read them at school, they are torn apart and analysed monotonously. It's natural that every book you read with school in my opinion at least is set up so that by the end, you absolutely hate it. This is what happened with Of Mice and Men in Year 9. Aside from the fact that we did it in school, I just don't think it's that great of a story.
SCENARIO FOUR:
Your least favourite book of life: Let's say that you're hanging out at the library when BAM global warming explodes and the world outside becomes a frozen wasteland. You're trapped and your only chance for survival is to burn a book. What is the book you first run to, your least favourite book of all life, what book do you not fully regret lighting?
Whilst doing this tag, I've find it really hard to think of what I'd count as the worst book ever. So I've been on goodreads and whilst I've given this a two star instead of one star rating. It has to be Starter For Ten by David Nicholls. I'll admit, some things made me laugh, but that was at the very beginning, and soon everything just went from bad to worse. The writing dragged, the characters were dull, the plot was pointless and the ending just ruined the entire book. Yep, it has to be Starter For Ten.
SCENARIO FIVE [polandbananasBOOKS's question]:
You're about to go up on stage when you realise you're chewing gum. You have all your favourite series backstage to steady your nerves before your performance and you realise you have to rip out the last page of the last book in one of your favourite series to rid of your gum BECAUSE YOU CAN'T GO ON STAGE CHEWING GUM! What book do you choose to rip out the last page of?

Well, strictly speaking I've only ever really read one series - and that would be Harry Potter, however there is no way that Deathly Hallows would suffer through this kind of pain because I loved the Epilogue - 19 Years Later. I have read some of the Chronicles of Narnia, I never finished it, but I did recently Google the ending and I'm really not happy about it. So I'm going to chose The Last Battle by C.S. Lewis.
As stressful as it has been to try and find these books, I've really enjoyed doing this tag. Thank you to Rachel from

Booktastic Reviews

and Rita from

Weaving Pages

for tagging me.
I'm not sure who to tag, because so many people are already doing this tag (Rachel tagged LOADS of people)
So I'd like to tag...
Charli or Tori from To Another World. Rachel has already tagged one of you but I'd be interested to see the others opinions...
Holly x