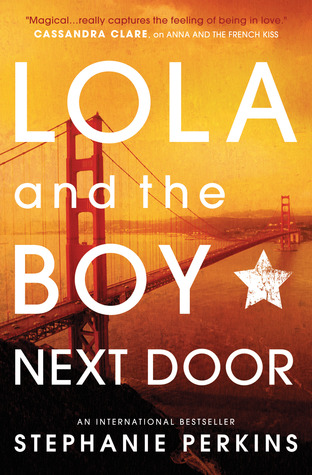 Budding designer Lola Nolan doesn't believe in fashion... she believes in costume. The more expressive the outfit – the more sparkly, more wild – the better. And life is pretty close to perfect for Lola, especially with her hot rocker boyfriend. That is, until the Bell twins, Calliope and Cricket return to the neighbourhood and unearth a past of hurt that Lola thought was long buried. So when talented inventor Cricket steps out from his twin sister's shadow and back into Lola's life, she must finally face up to a lifetime of feelings for the boy next door. Could the boy from Lola's past be the love of her future?
Seriously. Seriously, Stephanie Perkins is a God.
Since I read the last pages of Anna and the French Kiss in January - the review of which you can see

here

, I've been desperately waiting to get my hands on Lola and the Boy Next Door. There was however a wait. If I wanted to get hold of matching covers (which matters a lot in my eyes) then I would have to wait until June. I was willing to wait.
By some miracle, I found a copy of this two weeks earlier than it was due to be released. So I went home and read it over the course of the half term holidays and to say this book didn't let me down is an underestimate. This was such a beautiful book that was bursting with surprises around every corner.
I know often I talk about the characters in my book reviews and that can cause some rambling, but I feel like I have to do this with this book. Lola was an incredible character. She was the type of person that doesn't give a damn about what anyone else thinks of them. She dared to be different, and that is a quality that you don't often come across in reality or in fiction. And Cricket as well. CRICKET was just awesome, and you could see how much he loved Lola from the very second that he watched her through the window next door. A charming, charismatic person that whilst he did have his flaws, (he'd hurt Lola in the past), he is one of the sweetest male characters I have seen in a long time.
One thing that made Lola and the Boy Next Door so different to Anna and the French Kiss was that things were in reverse. Instead of Etienne St Clair being the guy who loved Anna at the same time as another girl, it was Lola who was struggling to accept the fact that she was in love with Cricket as oppose to her boyfriend. It was Cricket trying desperately to make Lola see him in the same light that he saw her in, instead of Anna trying to get her head around the fact that she wanted to be with St Clair. I liked how those roles were switched around. And Anna and St Clair were in this book too! I was so happy to see them again and I loved how they had a connection to both Lola and Cricket.
The plot was so perfect too, with so many different elements; there was Lola trying to find out if the girl in costume was really who she actually was. There was obviously also the idea of Lola and Cricket falling in love. And as well as all of that, there was Cricket trying to realise that he had lived in his sister Calliope's (I googled it - apparently you pronounce it Cal-eeh-oh-pee) shadow all of his life whilst she became a famous figure skater and him trying to break free of the shadow he was living in.
Lola's story was one that will stick with me for a long long time and was a heartwarming tale to read about.
If you need something that will make you laugh and make you smile, then pick up this book. Even if you haven't read Anna and the French Kiss (although you really, really should), just pick it up because it's more than worth it.
Holly x