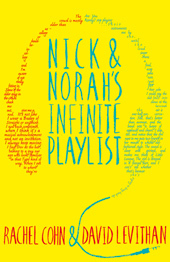 Nick and Norah are both suffering from broken hearts. So when Nick sees the girl who dumped him walk in with a new guy he asks the strange girl next to him to be his girlfriend for the next five minutes. Norah would do anything to avoid conversation with the not-friend girl who dumped Nick, and get over the Evil Ex whom Norah never quite broke up with. And so she agrees. What follows is an epic first date between two people who are just trying to figure out who they want to be - and where the next great band is playing.
Be prepared. Be prepared for a rant.
I was sent this by Electric Monkey for review and in no way has my opinion been effected by receiving this book. I contacted Electric Monkey requesting this book after it was said that you could in an email, and to be honest, I was pretty excited. But the reality is that I didn't like this very much at all.
Don't get me wrong, there aspects that I liked, and I'm glad that I ploughed through this anyway. The dialogue was humorous and entertaining at times, and I liked the character of Toni/Tony - that little segment of the book made me laugh, but other than that I was disappointed.
One of the main things that bothered me in this book is something that I mentioned in my review of
Grasshopper Jungle
, and it was that there was SO much swearing. Occasional use of swearing, and if neccessary, I can understand. However, the way Nick and Norah used such language came across on every single page. As mentioned before now, I believe that swearing and using bad language takes something away from the writing. It makes writing not flow as well and it comes across as just too much. Swearing after practically every other word doesn't count as forming a coherent sentence. Well, apparently in this book it does.
The plot was also incredibly confusing, the romance came out of nowhere without any signs or symbols that it was going to happen (this for the record, isn't a spoiler). One minute they're just talking and the next minute they were dramatically kissing. It just wasn't realistic.
I think I need to stop now otherwise I'll burn the keys of the keyboard. Perhaps this just wasn't for me.