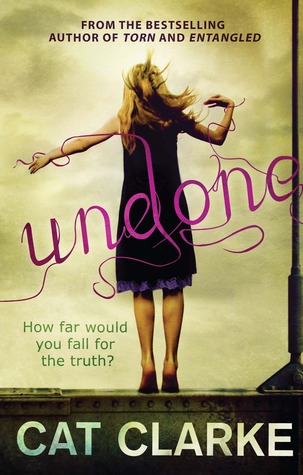 Jem Halliday is in love with her gay best friend. Not exactly ideal, but she's learning to live with it. Then the unspeakable happens. Kai is outed online ... and he kills himself. Jem knows nothing she can say or do will bring him back. But she wants to know who was responsible. And she wants to take them down.
Cat Clarke has done it again.
Yet again she has created one hell of a book - and it really worked.
Undone is about Jem who has been in love with her best friend Kai for years, even though she knows that he's gay. Their friendship is incredibly strong but one day, that's all shattered when a video of Kai is posted online and subsequently, he commits suicide. One month later, Jem receives a box of letters - one for every month of the next year - all of which are from Kai.
In regards to characters, I loved Kai. Kai was this person who was impossible to hate - even if Jem does hate him for leaving her alone and that made it all the more heartbreaking that he killed himself. The emotions that are experienced by a suicidal person were reflected perfectly and I feel that made the story all the more realistic. On top of this, Jem was an incredibly complex character, and whilst the things that she did were sometimes terrible, you completely understood her actions.Whilst she was generally a good person, all the actions carried out in revenge of Kai's death, although terrible, everything she did was vaguely understandable.
One of the main things that was done well in this book was grief. Grief is a theme that can be projected really well, or terribly in fiction. As someone who has lost a friend, I felt that Clarke hit the nail on the head when describing how someone feels after another has died. The anger and frustration felt was described perfectly and it made the book all the more emotional. Overall I loved this book, but for me it wasn't as ingenius as I felt Torn and Entangled were. Perhaps it was a little on the long side but like with every one of Cat Clarke's books, I was left speechless.