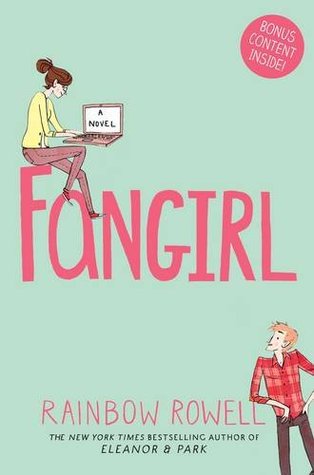 Cath and Wren are identical twins, and until recently they did absolutely everything together. Now they're off to university and Wren's decided she doesn't want to be one half of a pair any more - she wants to dance, meet boys, go to parties and let loose. It's not so easy for Cath. She's horribly shy and has always buried herself in the fan fiction she writes, where she always knows exactly what to say and can write a romance far more intense than anything she's experienced in real life. Now Cath has to decide whether she's ready to open her heart to new people and new experiences, and she's realizing that there's more to learn about love than she ever thought possible ...
This book is simply stunning. Rainbow Rowell is a genius.
Every time I think of this book, I'm consumed by happiness, joy and I just want to go and shout from the rooftops how much I love this book - okay so I'm fangirling over Fangirl.
Fanfiction is something that makes you an introvert and you become engrossed in the characters you write about (trust me, I'm a Harry Potter fanfic writer) and so writing a book about this in someways really shouldn't work, but this works brilliantly.
The characters are well rounded and individuals who aren't just there to serve Cath but have their own backgrounds too. You love the characters you're meant to love, and hate the characters you're meant to hate. The plot was detailed and uplifting - I simply wanted more, and more, and more.
"Just... isn't giving up allowed sometimes? Isn't it okay to say, 'This really hurts, so I'm going to stop trying'?"
"It sets a dangerous precedent."
"For avoiding pain?"
"For avoiding life."
In Cassia's society, Officials decide who people love. How many children they have. Where they work. When they die. But, as Cassia finds herself falling in love with another boy, she is determined to make some choices of her own.
I don't really know how I feel about this one. The reality is that I've never been a big fan of dystopian fiction, but this was something that I had high hopes for - and it really let me down.
Gradually, dystopians start to become unoriginal and blend into one another, and I feel like Matched was put in the blender before it had a chance to reach its potential. The premise is great - a world where all your life decisions are made for you - and the first few chapters were great. Then it started to mirror the likes of The Hunger Games, Divergent and Delirium before it just spiralled out of control and was seemingly dull. I love the characters on a positive, but the book was terribly slow paced as well. This could have been so much better, and really, really wasn't.
Twelve-year-old Mira comes from a chaotic, artistic and outspoken family where it's not always easy to be heard. As her beloved Nana Josie's health declines, Mira begins to discover the secrets of those around her, and also starts to keep some of her own. She is drawn to mysterious Jidé, a boy who is clearly hiding a troubled past and has grown hardened layers - like those of an artichoke - around his heart. As Mira is experiencing grief for the first time, she is also discovering the wondrous and often mystical world around her
I must say that I'm sad how disappointed I was with Artichoke Hearts. This is a book that sounds incredibly interesting but sadly wasn't too my taste like I thought it would be. The plot was rather slow paced and the story felt rather dragged out. It felt like it could have been taken in a different direction or been improved upon. Many people love this but I guess that it just wasn't for me.
On a more positive note, the characters were great and very easy to become attached too, Mira was especially great. It was just the plot that unfortunately let this down.
Thank you to Macmillan for sending me Fangirl and Artichoke Hearts for review.
Holly x