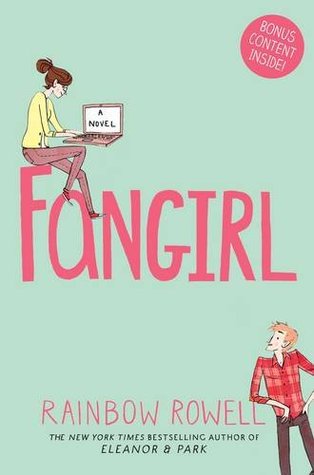 Cath and Wren are identical twins, and until recently they did absolutely everything together. Now they're off to university and Wren's decided she doesn't want to be one half of a pair any more - she wants to dance, meet boys, go to parties and let loose. It's not so easy for Cath. She's horribly shy and has always buried herself in the fan fiction she writes, where she always knows exactly what to say and can write a romance far more intense than anything she's experienced in real life. Now Cath has to decide whether she's ready to open her heart to new people and new experiences, and she's realizing that there's more to learn about love than she ever thought possible ...
.
As weird as it sounds, I'm pretty sure that when I read this back in February that I knew that this may be my favourite book of 2014. Although that was my 6th book of the year, there was definitely something that made me believe that I wouldn't read anything better than this throughout the rest of the year. Needless to say, now in December, I've read 85 books since, and nothing has succeeded Fangirl.
2 months before reading Fangirl, I had read Eleanor and Park - that being the first time I'd ever heard of Rainbow Rowell. Eleanor and Park was a 5 star book in my eyes and so I had high hopes for Fangirl - which of course, the book reached. Fangirl was an incredible book, and I feel one of the reasons I felt this is because of the Simon Snow links. Simon Snow is a fan take on Harry Potter - a series which has been my life for the past 4 years. Simon Snow mirrored the Harry Potter fandom so well, the way that people queued up for the midnight releases etc - it was just perfect.
I always consider Hermione Granger my favourite fictional character because I've always felt that I could somewhat relate to her, as with Luna Lovegood. Cath Avery has certainly made it into my top 3 characters of all time, and this is probably because she is exactly like me. I suffer from Anxiety, want to do Creative Writing at University, and I also write fanfiction - specifically Harry Potter fanfiction. I could completely understand her actions and her thoughts behind what was happening, which is a connection I rarely find with main characters.
So many plots ran through this book too - Cath's relationship with her twin, Wren, the romance between her and Levi, and the story of Cath's first year of University, not to forget the snippets of Simon Snow here and there. It was great that all of these different plots felt equally covered, and although all entwined, none of the themes necessarily dominated, and I really loved that.
I could go on forever about this book and I know this isn't exactly a great review, but I really can't do, what I now consider my favourite book, justice. Fangirl just left me feeling warm and fuzzy with happiness - I was literally fangirling for Fangirl.