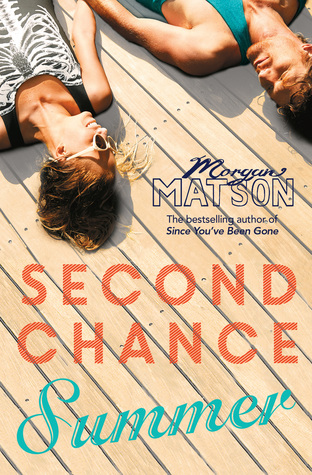 Taylor Edwards' family might not be close knit - everyone is a little too busy and overscheduled - but for the most part, they get a long just fine. Then Taylor's dad gets devastating news, and her parents decide that the family will spend one last summer all together at their lake house in the Pocono Mountains.
As the summer progresses ad the Edwards become more of a family, they're more aware than ever that they're battling a ticking clock. Sometimes though, there is just enough time to get a second chance - with family, with friends, and with love.
Before I begin, I want to show you my original Goodreads review which I wrote minutes after finishing Second Chance Summer:
"This is the first book I've ever cried at: the type of crying involving runny mascara and a lump in your throat.

Enough said for now"
The key word in this is "cried". If you've been reading Lost in a Library for a while you'll know that I just don't cry at books, but Second Chance Summer effected me in a way that I don't know how to explain.
Morgan Matson's books are always fun to read [I read both Amy & Roger's Epic Detour, and Since You've Been Gone last summer]. Filled with laughs, summery days and classic YA Contemporary moments. This book felt like all of that, but with extra sprinkles on top.
Although the main plot of the book was about Taylor's father dying, multiple other plots were woven in as well; love, loss, friendship. None of these felt less important than the others, and I appreciated how the book wasn't just about death or just about Taylor's love-life.
It's true, cancer books are becoming ever more popular since TFiOS. What I admire though in this book is how we learn about how the cancer is slowly destroying Taylor's father - little things like lack of appetite, and not wanting to drive anymore. Usually in cancer books you see the surface - the illness is diagnosed, and symptoms are given, but the clear progression of the disease is never truly covered, and I massively admire Matson for being so direct and upfront about the issues in Second Chance Summer.
Finally, Second Chance Summer is a story that no matter what your situation or relationships, will make you feel that little bit closer to the people you love. Taylor made me realise that I want to learn everything I possibly can about the people I love - their favourite film, colour, best memory etc, whilst we have time.
Whether I'll read this again anytime soon, I don't know. I'm not ready for that kind of hurt by paperback again, but I highly recommend you read this.
Thank you to Simon & Schuster for sending me this for review, in no way have my opinions been affected.
Holly x