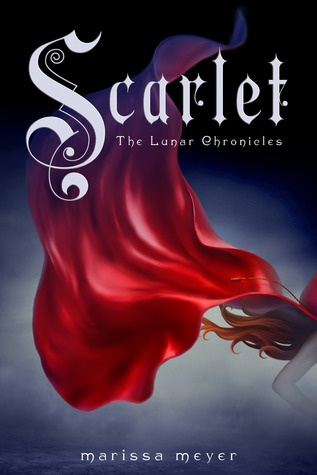 Scarlet Benoit's grandmother is missing. It turns out there are many things Scarlet doesn't know about her grandmother or the grave danger she has lived in her whole life. When Scarlet encounters Wolf, a street fighter who may have information as to her grandmother's whereabouts, she is loath to trust this stranger, but is inexplicably drawn to him. And he to her. As Scarlet and Wolf unravel one mystery, they encounter another when they meet Cinder. Now, all of them must stay one step ahead of the vicious Lunar Queen Levana, who will do anything for the handsome Prince Kai to become her husband, her king, her prisoner.
If you are going into Scarlet thinking that the entire book is going to be from her perspective, then think again. Remember Cinder? The cyborg from New Beijing? Well, it's half in her perspective too. Obviously dual perspectives do not appeal to everybody, but Marissa Meyer ties the plots together so effectively, that boredom never strikes, and you never find yourself craving the other perspective.
Scarlet is a sharp witted, fierce, and dauntless character. We see her gradually grow more and more bitter, desperate to find her last connection to family. I guess in a way this sounds like Cinder, but Scarlet is a breath of fresh air in the series.
I loved how reading from Scarlet's perspective, you become absorbed in this cold world that is rarely broken down.
Contrasting with this, I didn't like Wolf, and I didn't like the relationship that formed between him and Scarlet. To me, it doesn't feel right that Little Red Riding Hood and the Wolf fall in love. It just doesn't make sense to me. But that was my only problem with this book.
Unlike Cinder, the plot goes in a full arc. There is a clear beginning, middle, and end, and the plot goes at such a fast pace that you will fly through this.
Scarlet left me with a
ridiculous
book hangover. I ended up in a month long slump in between finishing this and the wait for Cress. The reality is that this is my least favourite book in the Lunar Chronicles, but there's always going to be a least favourite, and it's still a fantastic read.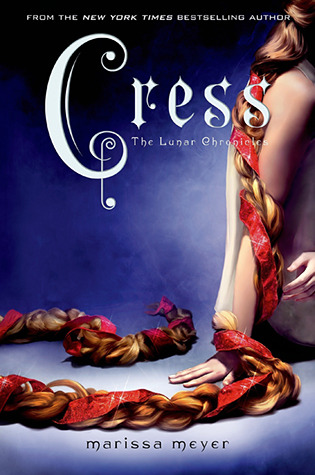 Cinder and Captain Thorne are fugitives on the run, now with Scarlet and Wolf in tow. Together, they're plotting to overthrow Queen Levana and her army. Therebest hope lies with Cress, a gilr imprisoned on a satellite since childhood who's only ever had her netscreens as company. When a daring rescue of Cress goes awry, the group is separated. Cress finally has her freedom, but it comes at a high price. Meanwhile, Queen Levana will let nothing prevent her marriage to Emperor Kai.
The beauty of the Lunar Chronicles is that each book gets better and better. And if we're only talking about the novels (and excluding the Fairest novella), Cress is the best so far.
SO much happens in 500 pages. There's a trip to Africa, someone ends up on the moon, and we get so much more information on Letumosis, shells, and the glamour. If you've been confused about how the workings of future Earth and Luna go, then this will answer your questions.
Cress herself is extremely sweet, and has the great mental strength that I suppose comes from being trapped in a satellite your entire life. A hopeless romantic, she has these ideals based on romantic earthen films she has watched, and quickly falls for Thorne, who, in Cress just becomes an even better Jack Sparrow (like that was even possible). The relationship between these two characters is adorable; she wants the "perfect" romance, but forgets the fact that Thorne is the first male she has ever met. I LOVE THEM TOGETHER.
The characters will always be the best part of the Lunar Chronicles. Of course, the story is fantastic, but the characters make the story what it is. Every character is so different from one another, and mean that unexpected twists and directions are taken. My only problem with Cress was that given what happened in this book, it could have been shorter than 500+ pages. Some parts were dragged out, but nevertheless, I really, really enjoyed reading this.
At the time of writing this, there are still two weeks until Winter is released: I am
beyond
excited to find out what happens next. I have also reviewed
Cinder
, and my review of Fairest will be up in the next week.
Holly xx