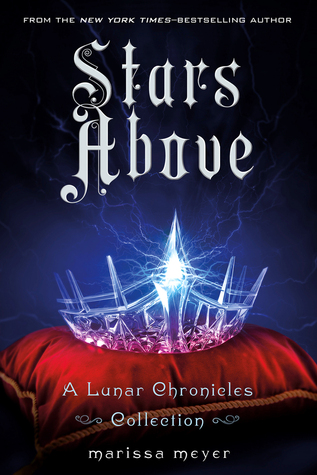 The universe of the Lunar Chronicles holds stories—and secrets—that are wondrous, vicious, and romantic. How did Cinder first arrive in New Beijing? How did the brooding soldier Wolf transform from young man to killer? When did Princess Winter and the palace guard Jacin realize their destinies?
Firstly, I want to thank my Book Depository pre-order of Stars Above arriving a day before publication. It was the best thing that could have happened on a bleak Monday morning... I digress.. I'm so, so glad that this book exists, because after Winter, I wasn't ready to goodbye to these characters [I'm still not, but that's besides the point.]
Let's break this down story by story...
The Keeper - 5/5
Finally reading Michelle Benoit's backstory was amazing. Over the course of the however many pages The Keeper was, it's easy to greatly admire Scarlet's grandmother and her personal history. There's very little of Michelle in Scarlet, but what she does leave in that book packs a punch - especially when reading of her missions to Luna, and her relationship with Scarlet. Learning of how Cinder ended up living with the Benoit's in her comatose state as well really filled in gaps that were left when simply reading the full length books.
Glitches - 5/5
I've never read any of the stories [such as this one] that were issued on Wattpad, and I'm so glad I waited for Stars Above to experience them. Reading this straight after seeing Garan adopting Cinder in The Keeper was heartbreaking - especially when it's revealed that he caught the Letumosis. And we saw Cinder and Iko's first meeting, which was so sweet. The parallels in Glitches to Cinderella was well were so familiar yet contrasted with the original tale wonderfully.
The Queen's Army 4/5
Honestly, I didn't really care too much for this story, as I can't stand Wolf, but nevertheless, it was still interesting to learn about the genetic transition from a Lunar to one of Levana's soldiers.
Carswell's Guide to Being Lucky - 4/5
THORNE. Again, I didn't particularly love this, just because I think I expected to get more of Thorne's past then we actually did. Of course, this story adds to emphasising his charm, and I enjoyed because it was about him, but did it really provide anything great
? No.

After Sunshine Passes By - 4.5/5
Poor, poor Cress. I felt like my heart had been stomped on after reading After Sunshine Passes By. Cress has always been my favourite character in this series, so it's great to have more of her story. Out of all the stories here, even above genetic modification and Cinder's aunt trying to murder her, this was by far one of the saddest. And Sybil telling Cress that her parents hated her... This was one of the short stories where I appreciated the background information the most. Throughout the series we're told pieces of information about Shells and their status on Luna, but to see how they are raised, like children in boarding schools, was horrific.


The Princess and the Guard - 5/5
Jacin and Winter
! This was a story that was mentioned in Winter but I'm so so glad that
we got to see what really caused Winter to stop using her Glamour. Although they're introduced at the end of the series, I think Jacin and Winter's relationship is one of the strongest in the Lunar Chronicles, and seeing them go through everything together, across so many years was heartwarming. I don't believe people give Winter enough credit, because, to stop using your own powers, causing insanity... that's fearless.
The Little Android - 4.5/5
For the main part of The Little Android, I had a lot of problems. I didn't care for the story, or Mech 0.6. But as the parallels between this and the Little Mermaid became clearer in the second half [such as her taking on a mute Escort Droid's body] I grew to like this more and more. Not one of the best in Stars Above, but still very interesting.
The Mechanic - 5/5
By this point, you may have established that I'm trying to limit the amount of fangirling that comes across in these reviews, but it's so hard when these stories are so excellent. And The Mechanic is no exception. Kai is portrayed as quietly fierce and humble for a future emperor. Any admiration I had for him seemed to build within these few pages, as he risks everything in his searches for Princess Selene. Additionally, it was refreshing to see this scene outside of Cinder's perspective, and see what Kai was feeling in that moment.
Something Old, Something New - 5/5
The "Wedding of the Century" as it was so called on Meyer's website, was... well... I wouldn't call it the Wedding of the Century. The couples whom's weddings out of the Rampion crew would have been worthy of "wedding of the century" were not the ones that got married, and that was disappointing . I wanted more of Cress and Thorne though! They were barely interacting in Something Old Something New,but when they did, it was like Christmas had come early. I can't deny the couple that get married are possibly not the ones I wanted or expected to do so, but nevertheless, it was a very sweet, and heartwarming ending.
Meyer provides such rich backstories and dynamics to her characters, and Stars Above was the icing on the cake of an already phenomenal series. Finally, the pasts of Cinder, Scarlet, Cress, Winter, Wolf, Thorne, Kai, and Jacin intertwined, and a series drew to a close in spectacular style. Although, apparently we're getting a graphic novel - Wires and Nerves - next year; so at least this isn't the end.
What did you think of Stars Above
?
What was your favourite story
?