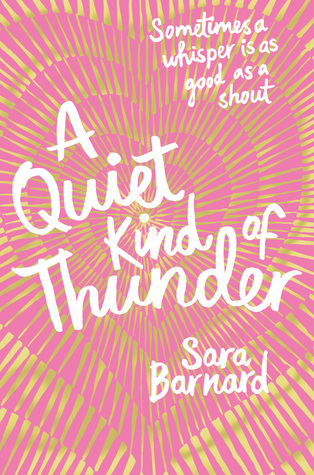 Steffi has been a selective mute for most of her life - she's been silent for so long that she feels completely invisible. But Rhys, the new boy at school, sees her. He's deaf, and her knowledge of basic sign language means that she's assigned to look after him. To Rhys, it doesn't matter that Steffi doesn't talk, and as they find ways to communicate, Steffi finds that she does have a voice, and that she's falling in love with the one person who makes her feel brave enough to use it. From the bestselling author of Beautiful Broken Things comes a love story about the times when a whisper is as good as a shout.
I always have been, and always will be, a person who judges a book by its cover. A cover is the pivotal element of a book's design that will either make or break whether I pick it up, and most of the books I read I discover on the grounds of an interesting cover or title. Whilst the title is so wonderfully symbolic of the events in the novel, the candyfloss-like pink exterior of A Quiet Kind of Thunder immediately gave me the wrong impression of a sickening level of fluffiness. I like fluff in fiction just as much as the next person, but personally I believe there is a fine line that can be crossed where sweet becomes a sugar overload and thus sickeningly sour. From the cover, that's how I assumed A Quiet Kind of Thunder would be. But, like with Anna and the French Kiss, I was wrong, and this was beautiful.
I was very sceptical going into A Quiet Kind of Thunder that it would be just another YA romance where fluff and cheesy lines superseed any pressing themes and the undercurrent motifs. So you can imagine my surprise when within a few pages, I knew that this would be far different to what I had predicted. Of course, the romance was what pulled the plot forward, but there were so many other elements at stake - such as toxic relationships, prospects of higher education, and feeling like an outsider - that had equal dominance.


Admittedly, the novel had far too many moments in it that rung eerily true of my own past experiences with Anxiety, and yet was highly educative in areas that I hadn't really considered before, such as selective mutism. A Quiet Kind of Thunder perfectly hits what it's like to be shy and also to be scared to speak among people you're not familiar with, and it was weirdly comforting to see this from a perspective that was outside of my own head.

(Also, I need to just add that I am too much like Steffi, and this goes beyond the shyness and anxiety. Maybe this after all, was why I enjoyed this story as much as I did, amongst countless other factors. We want to go to the same University, which to be honest, is the only reason I decided read this book, because I knew Bangor University was mentioned in it. At the time of reading, I had, like Steffi, just booked to go on holiday to Edinburgh. The coincidences just kept on coming...)

For a while I was worried that this was going to go down the path of "your head is a mess, but don't worry, love will solve everything!" but A Quiet Kind of Thunder actively went against this. It shows and promotes that love won't solve a mental illness; it can be an added bonus on the side, but love isn't the answer - and I appreciate the distancing from traditional YA tropes there. Where so many young adult books fall into this trope, A Quiet Kind of Thunder responds with lightning, showing how love can be chaotic, and no matter how much it can ease mental and physical health for some, ultimately a relationship will never save everything and resolve every issue.
Despite the lacking of much elegance in prose, the simplicity of the language used to a degree is so vital in a world where mental health is more often than not romanticised for the sake of sales. As an upcoming English Literature student, I personally prefer the use of metaphors, symbolism, and allegories to explain mental illness, as I adore deconstructing what the author has said in order to understand what lies beneath. However, in A Quiet Kind of Thunder, Barnard's leaning towards simplicity is certainly valued in her blunt depicition of mental illness. In this novel, the basic prose was needed in order to get the message across in its most basic terms, but also to highlight pointedly the reality of Steffi's situation. Her selective mutism is what it is. Depicting the struggle that anxiety imposes on its sufferers is so crucial to impressionable audiences, and those who just want to know more about a different side to mental illness.
Mental illness is becoming a common theme in young adult fiction. It runs in the veins of the pages, each word bearing the soul of a beating heart that needs to be heard and felt. Although whilst that rings true, as readers we rarely encounter selective mutism within fiction. How Barnard handled this issue was remarkable, right down to the formatting of the book to show texts and the communications between Steffi and Rhys. Through the formatting and layout, Barnard layers the plausibility of tension between the couple, especially in matters of isolation even when together. The issues that were raised through their communication and as debates within A Quiet Kind of Thunder brought to light so many matters that aren't discussed enough within society, with particular regards to deafness and selective mutisim. As a reader who read endless amounts of young adult fiction in their early teenage years and yet never once came across a novel like this, what Sara Barnard has created in A Quiet Kind of Thunder is much appreciated.
This is a rare book that from my perspective as an analytical reader, was largely flawless. Every character, major or minor, was detailed to the bone and had an intricate personality. Furthermore, the themes that were raised surrounding the heart of the novel about mental and physical illness, such as oppressive relationships and decisions about further education, were handled with intricate care and precision, making this a book that any young adult, regardless of gender, age, or background, should read.