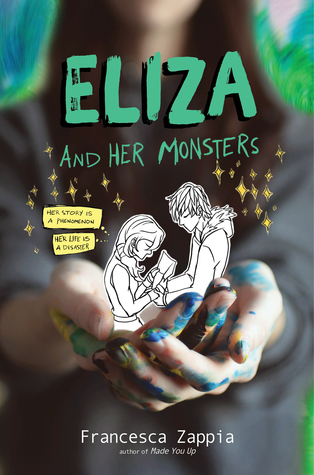 In the real world, Eliza Mirk is shy, weird, and friendless. Online, she's LadyConstellation, the anonymous creator of the wildly popular webcomic Monstrous Sea. Eliza can't imagine enjoying the real world as much as she loves the online one, and she has no desire to try. Then Wallace Warland, Monstrous Sea's biggest fanfiction writer, transfers to her school. Wallace thinks Eliza is just another fan, and as he draws her out of her shell, she begins to wonder if a life offline might be worthwhile. But when Eliza's secret is accidentally shared with the world, everything she's built—her story, her relationship with Wallace, and even her sanity—begins to fall apart.
There's a story behind my experience of reading this book and why I picked it up. And it's a hard one.
For the past few months I've been flooded by the brain-based tsunami that is depression. It hadn't flared up horrendously in a while and then, at the end of January, I cracked, completely. So I made a doctors appointment, phoned my mum, packed my bags and headed home from university for two weeks, to escape from my triggers and take a break. This was my ultimate worst point. When I needed to do something, anything, I couldn't: I could barely function beyond sleeping. I struggled to go out, to watch anything, to read anything. But me, being the bookworm I am who has always found massive comfort in books, I needed to read to help myself in this time. Nothing on my bookshelves was appropriate for my mental state, everything was too serious, and lacked any of the fluff I really craved. And then I remembered this book, which I had so desperately wanted to absorb myself in for months: so I opened Amazon (all hail student Prime free-trial), bought Eliza and Her Monsters. The next day I began to find solace in Eliza's world.
Reading this book was a risk, any book was. I didn't know what was going to trigger me, and if reading about someone who like me, also experiences very bad anxiety, would have adverse affects on my mental health. But the reality was that reading about Eliza's journey was immensely comforting. Mainly because there were strong ties between LadyConstellation and I. I've very often disappeared into fictional worlds, often creating fanfiction and fan art for them *coughs* Harry Potter. Like Eliza, anxiety often cripples my mind and it distanced me from others in school, and like Eliza, my online life and friends is a wonderful world to delve into.
This book is truly understanding of what the readers who will consume this are probably going through. Not every YA book out there features the struggles of having friends scattered across the world, but few you can physically interact with, and few accurately depict the close bonds of fandom communities. But Eliza and Her Monsters did so perfectly. The closest I'd ever felt to my own story through literature before then was Rainbow Rowell's Fangirl, and I still feel the deepest of connections to Cath in that book, however, in the present day when now at 19 my life tied a lot more to Cath's did when I first read the book at 14, this book was an empathetic hand on the shoulder that understood. This book is truly special, a rare jewel that has the potential to provide comfort to any anxiety sufferer, regardless of background or situation. Above all in this sense, the world felt real. Eliza's life and story felt so utterly plausible and tangible that I became fully immersed in her bubble. Additionally, even when Eliza's story wasn't directly being focussed upon, Zappia integrated two other stories in the webcomic and a series of books which Eliza adores, that despite their limited presence (to a degree) were such convincing additions that they became stories I'd genuinley want to read.
On top of a beautifully layred plot, all the realms of characterisation within the book were spectacular. Every side character had their own arc and development, feeling as colourful and bold as Eliza, not a monochrome hum in the background. And no, whilst love isn't the answer in mental health, and relationships in mental health books aren't always a good idea, often creating the notion that a relationship is the answer to depression, anxiety, etc, the relationship between Eliza and Wallace was extraordinary in its heartwarming simplicity, delicacy and weaving into the fabric of the plot. Wallace wasn't the answer to Eliza's mental health, a relationship isn't a cure, but he was the support that we all need when going through a mental illness, and emphasised the notion that even when we are ill and telling ourselve otherwise, we are worthy of love, and love can bring so much light to our lives. (Also the relationship had slight hints of my own relationship with my boyfriend which made my heart sing.)