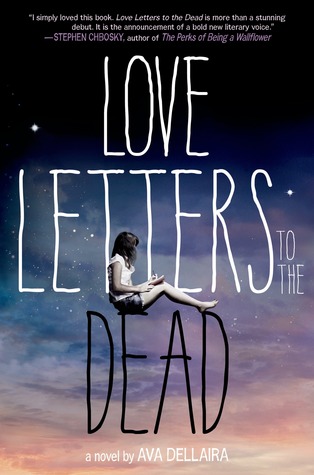 It begins as an assignment for English class: write a letter to a dead person - any dead person. Laurel chooses Kurt Cobain - he died young, and so did Laurel's sister May - so maybe he'll understand a bit of what Laurel is going through. Soon Laurel is writing letters to lots of dead people - Janis Joplin, Heath Ledger, River Phoenix, Amelia Earhart... it's like she can't stop. And she'd certainly never dream of handing them in to her teacher. She writes about what it's like going to a new high school, meeting new friends, falling in love for the first time - and how her family has shattered since May died.
Sometimes, you can chose a book completely based off somebody else's opinion of it. One person's thoughts can control your decisions. In this case, I'm so, so glad that I read that tweet (Thank you Emma Watson).
I read Love Letters to the Dead over the course of a week in May whilst ill and stranded in a constantly exhausted state of mind. Needless to say, in the most ironic of ways, Ava Dellaira's debut novel really cheered me up. Words captivated me, their poetic, entrancing style made the plot elegant and heartbreaking. As a skeptic who had been told this was too similar to The Perks of Being a Wallflower to be original, I believe this was an incredibly unique book that will stick with me for a long time. Every time I glance at this book on my bookshelves, I smile because I'm so glad that I came across such a wonderful journey.
Laurel was without a doubt had an interesting perspective on things and mirrored a slightly two sided personality. The exterior of bold, intelligent and daring, and the interior of a shy, certainly naive teenager who was in some ways lying to herself. I loved how all of the characters in were at one point or another slightly twisted in Laurel's mind; for example; the complex relationship between two of her friends, the manipulative side to Tristan and Kristen - the two hippies who smoke in an alleyway at Laurel's school, and of course, how May really died.
Such a variety of subplots also ran through the course of the book and so there was never a dull moment. Something was always happening and I think that was what kept me interested - I grew to care about the characters and so I wanted to find out how their stories ended. Additionally, so many Laurel wrote to so many interesting people and I loved how all of their tragic stories linked to her or May somehow, every chapter shattered my heart a little bit more and by the end of the book I was genuinely incredibly pleased with how the story had panned out.
Yes there were some bits that dragged, and there were some extremely similar details to The Perks of Being a Wallflower e.g. the Illuminaria, and the theme of LGBT surrounding her two friends, but that didn't matter in the end.
Holly x