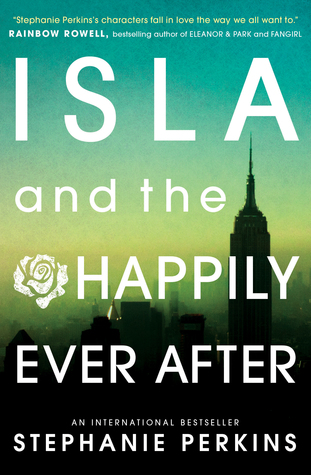 Hopeless romantic Isla has had a crush on brooding artist Josh since their first year at the School of America in Paris. And, after a chance encounter in Manhattan over the summer break, romance might be closer than Isla imagined. But as they begin their senior year back in France, Isla and Josh are forced to face uncertainty about their futures, and the very real possibility of being apart. Set against the stunning backdrops of New York, Paris and Barcelona, this is a gorgeous, heart-wrenching and irresistible story of true love, and the perfect conclusion to Stephanie Perkins's beloved series.
I am not okay.
This book may have ruined me. Actually, no, it has ruined me.
Everything about Perkins' final book in the Anna and the French Kiss series was just perfect. The book follows Isla, who we saw briefly in Anna and the French Kiss as she enters her senior year of high school and hopes to pursue her love for fellow student, Josh. At the start of the book we meet Isla once again, in New York where - drugged up on painkillers in the dead of night, she stumbles across Josh in a cafe and nevertheless - she embarrasses herself. Whilst a bit of an unusual opening chapter, Isla came across as witty and entertaining - basically classic Stephanie Perkins.
The characters in Isla and the Happily Ever After were stunning; so detailed and richly described. This means that within 400 pages you get to know the characters so well that at the end you don't really want to let go. Stephanie Perkins has a way with words that means once you dive into this world, you'll never want to re-emerge from the depths of her writing.
Isla was a character that was very easy to relate to, and that's one of the things I liked the most about this book. Whilst I love the idea of fluffy romance which we saw in ANNA and LOLA, this was honest, and truthful, and quite frankly, very real. The idea of Isla and Josh (for the record, this is on the blurb, not a spoiler) getting together very early on and then experiencing the ups and downs of a typical relationship was great and certainly memorable. Kurt as well! I love how this book dealt with Asperger's Syndrome so well. Bringing mental health into books about love and romance makes this story all the more real.
Can we just take a moment to appreciate the fact that

ANNA AND ST CLAIR ARE ENGAGED?!? I DID NOT SEE THAT COMING!

One of the brilliant things about seeing characters from the previous book- no matter how briefly- is that there just this huge amount of love for these people, who seem so real. It was brilliant to see Anna, St Clair, Lola, and Cricket once again, and see characters that we've grown to love so much.
Whether this is my favourite of the trilogy or not? I'm not too sure. Once again, this was definitely the most relatable book in the trilogy and that's something I really appreciated. Right now, it's between ISLA and ANNA. But really these books are on a whole other level to a lot of fiction. Often people say that you should read a lot of books by the same author to be able to say that they're your favourite author, but really I only need three books to say that Stephanie Perkins is definitely one of my favourites.
Personally, I can't stand fluffy books, and so if you told me a year ago that I'd read all three in the trilogy and adore them - Isla being the first book I've ever cried at - then I would have laughed. But I honestly cannot recommend these three books highly enough.
Holly x