Deathless by Catherynne M Valente
A handsome young man arrives in St Petersburg at the house of Marya Morevna. He is Koschei, the Tsar of Life, and he is Marya's fate. For years she follows him in love and in war, and bears the scars. But eventually Marya returns to her birthplace - only to discover a starveling city, haunted by death.
This book reminds me of why I struggle with Historical Fiction and Fantasy, and that became a major problem in my eyes.
Deathless is a retelling of the Russion Folklore "Koschei the Deathless", and follows the romance between Marya Morevna and Koschei himself. Let me just put it out there that this book was extremely confusing.
As this is a mini review, I'm going to make this brief, but I just didn't understand Deathless. It may be an easy read but I just couldn't get my head around it, and that made this so difficult to follow.
The story is beautiful, and it is easy to understand it's fairytale roots, but I came out of this book thinking "What on Earth just happened."
Be prepared for weirdness.
Shadow and Bone by Leigh Bardugo
Alina, a pale, lonely orphan, discovers a unique power that thrusts her into the lavish world of the kingdom's magical elite - the Grisha. Could she be the key to unravelling the dark fabric of the Shadow Fold and setting Ravka free? The Darkling, a creature of seductive charm and terrifying power, leader of the Grisha. If Alina is to fulfil her destiny, she must discover how to unlock her gift and face up to her dangerous attraction to him. But what of Mal, Alina's childhood best friend? As Alina contemplates her dazzling new future, why can't she ever quite forget him?
This book was bursting with gorgeous tales and mystical characters. The Russian influence was very evident in the beautiful Ravka.
Everything was described in a way that is so different to any other fantasy that I've read. And after reading this I feel I appreciate the genre more than I did before hand. I really loved the story and how it was so unpredictable - as were the characters. For example; The Darkling was such a peculiar character and unlike any character I've ever read about. On one hand he seemed so likeable, even though in the back of my mind I knew that he was a symbol of evil. I've heard many people say similar things about the Darkling too, reflecting on what a good storyteller Bardugo is. The only thing I wish was that the pacing was a little faster.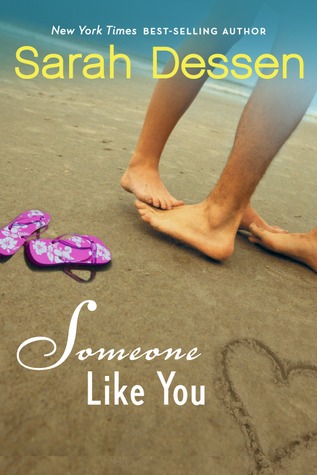 Someone Like You by Sarah Dessen
Halley has always followed in the wake of her best friend, Scarlett. But when Scarlett learns that her boyfriend has been killed in a motorcycle accident, and that she's carrying his baby, she was devastated. For the first time ever, Scarlett really needs Halley. Their friendship may bend under the weight, but it'll never break--because a true friendship is a promise you keep forever.
There wasn't anything neccessarily wrong with this novel, and so I'm not going to add negativity to this review. And the reality is that I haven't got enough to say even for a mini review, but the fact is that all I can say is that I liked, but I didn't love Someone Like You.
Character wise, the relationships between characters were great but the actual people needed developing further, and the plot overall was an enjoyable read.
However, that all said, the fact is that I wouldn't read any other books by Sarah Dessen.
Holly x