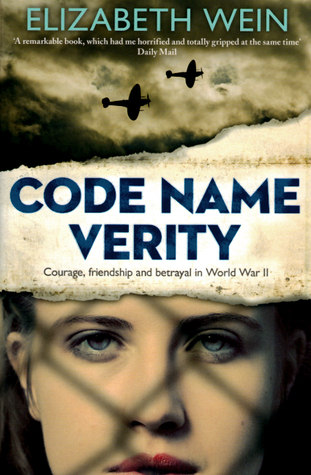 I have two weeks. You'll shoot me at the end no matter what I do. 11th October 1943: A British spy plane crashes in Nazi-occupied France. Its pilot and passenger are best friends. One of the girls has a shot at survival. The other has lost the game before it's barely begun.
Thank you to Electric Monkey for sending this to me in exchange for an honest review.
Please do not think that the rating given to this book from me is bad, because in spite of what I'm about to say I really think you should read this book.
Code Name Verity is about Verity, a British Spy captured by the Nazi's, she is writing a confession of what she does and how she got to this point.
Unlike so many others, I didn't love this book, but I did like it more than I had originally expected. The main reason for not sharing the same adoration for this book as my other book blogger friends is purely my fault. The reality is that I really struggle to read Historical fiction, but I requested this for review anyway because I'd heard such great things about Code Name Verity - and I'm very glad I did.
This book is split into two perspectives; part 1 - Verity, and part 2 - Kittyhawk (Maddie). My main problem with this book (aside from my struggle with the genre) was that the writing in Verity's half of the book was very hard to sink into. I found myself skipping pages every so often because I just couldn't focus. Nevertheless, this problem didn't continue into Maddie's half which was fast paced, dramatic, and occasionally witty.
What really surprised me was how on point Elizabeth Wein's description of England was. Early on in the book Wein described Manchester it's dense Jewish population. Being from near here and having Jewish family from that area , I know that this remains absolutely true. There was also a passage in which Maddie and Queenie were riding on Queenie's bike through the countryside, and it was such a beautiful page that was bursting with imagery. I felt like I was there with the characters, and that's a rare talent for an author to have.
My flaws let me down when reading this, but I really recommend you pick this up.