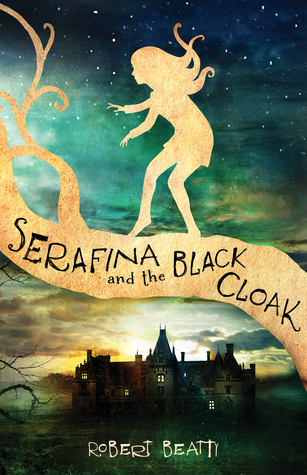 Serafina has never had a reason to disobey her pa and venture beyond the grounds of the Biltmore estate. There's plenty to explore in her grand home, although she must take care to never be seen. None of the rich folk upstairs know that Serafina exists; she and her pa, the estate's maintenance man, have secretly lived in the basement for as long as Serafina can remember. But when children at the estate start disappearing, only Serafina knows who the culprit is: a terrifying man in a black cloak who stalks Biltmore's corridors at night. Following her own harrowing escape, Serafina risks everything by joining forces with Braeden Vanderbilt, the young nephew of the Biltmore's owners. Braeden and Serafina must uncover the Man in the Black Cloak's true identity . . . before all of the children vanish one by one. Serafina's hunt leads her into the very forest that she has been taught to fear. There she discovers a forgotten legacy of magic, one that is bound to her own identity. In order to save the children of Biltmore, Serafina must seek the answers that will unlock the puzzle of her past."
Generally, I don't read historical fiction, or anything involving paranormal fantasy elements. Stories like that just don't work for me. I'm never fully gripped or finding my eyes wandering to the last words of the paragraph, longing to find out what happens next. But Serafina and the Black Cloak was an exception. A jewel in a sea of pebbles. Although first appearing complex, the plot has an ingenious simplicity. I was enthralled from page one.
"Our character isn't defined by the battles we win or lose, but by the battles we dare to fight."
Serafina is the kind of heroine I wish had existed when I was younger. Quick witted, snarky, determined, and bursting with a passion for what she deems worth fighting for. For someone who has barely interacted with with others in her lifetime, she has an immense capacity to love; whether it be familial, friendship or purely love for Biltmore Estate, and that's beyond admirable.
"Did evil creatures think of themselves as evil? Or did they think they were doing what was right? Was evil something that was in your heart or was it how people viewed you?"
For a first time author, I was astonished by the fantastical world Robert Beatty had created. Serafina and the Black Cloak challenges young readers to think about questions beyond their years, yet never underestimates the intelligence of the target audience, which I imagine will be greatly appreciated.
Who and what defines good and bad?
What is normal? At what point do we define someone as a friend
? These, along with themes such as status, class, parentage, and a truly dark mystery were beautifully woven into the plot. The atmosphere was cold and eerie, yet the description and characters of Blitmore were filled with warmth. I wanted to be there in 1899 with them. This series is one to watch.
Thank you so much to Electric Monkey at Egmont for sending me a proof copy of this in exchange for an honest review. Serafina and the Black Cloak by Robert Beatty is published in the UK on May 22nd 2016.
Holly x