Holly, alive and breathing. Ft. A jumper, a copy of Deathly Hallows, and a University prospectus... basically a material summary of my life right now.
Normally I wouldn't branch out of YA, classics, or general fiction in my reading, and especially not in my blogging here at Lost in a Library. But when an opportunity arises to explore a different area of literature, and at the same time help raise awareness for an important cause, that was something I couldn't decline. A while ago, I was contacted by BookLife, asking if I'd be interested in participating in their 2016 Dyslexia Awareness Week campaign.
In case you weren't aware of it, Dyslexia Awareness Week falls from 3rd-9th October this year, and BookLife have partnered with Barrington Stoke to share some well loved stories, especially made, or reproduced with the tailoring for a Dyslexic child. As part of the campaign, I was sent Monster Busters by Cornelia Funke for review. Video review - hence the above....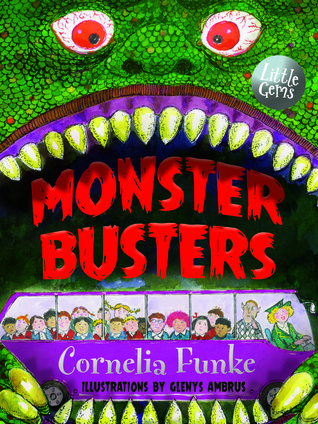 It's summer and that means it's time for Rosa and Ivan to visit the fair! The Ghost Train is Rosa's favourite, with ghouls and ghosts and goblins. But when she stumbles across a real monster, it's a job for the Monster Busters!
Admittedly, at first I was apprehensive about what my thoughts would be when it came to reading this, as I don't tend to read books aimed at a younger demographic, but Monster Busters surprised me. Not only is this tale endearing and sweet, but Funke creates situations and speeches that are laugh-out-loud funny. It's amazing the power such a short book [80 pages] can have, but I emerged from Monster Buster with a revitalised love for books aimed at the younger children.
This isn't Roald Dahl, this isn't J.K Rowling, and this isn't like any of Cornelia Funke's other works such as The Thief Lord or Inkheart, but with its creepy twist and turns, its various horrifying and loveable monsters, and its heart, which lies deep within Monster Busters, this book could act as a gateway for dyslexic or reluctant readers into further literature.
I was thoroughly impressed by how Barrington Stoke have crafted this book to aide dyslexic readers. So much care, love and attention has gone into making this not just a book but an experience for any child, especially one who may lack confidence or support in their reading.
As I said in the video review [which you should watch, by the way, even if it's just for a laugh to see how nervous I am filming,] I would very happily give this to any child regardless of their reading age or ability. Monster Busters is a book that will thrill readers, and has the potential to set someone off on their voyage through literature; a journey which is such a wonderful thing to have in life.
To find out more about Dyslexia Awareness Week and how these two publishers are contributing to aiding dyslexic readers, then head to the BookLife and Barrington Stoke websites and BookLife's blog.