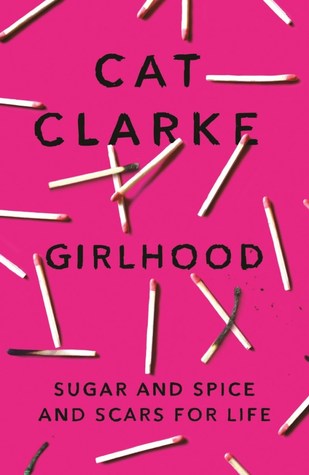 Harper has tried to forget the past and fit in at expensive boarding school Duncraggan Academy. Her new group of friends are tight; the kind of girls who Harper knows have her back. But Harper can't escape the guilt oYA f her twin sister's Jenna's death, and her own part in it - and she knows noone else will ever really understand. But new girl Kirsty seems to get Harper in ways she never expected. She has lost a sister too. Harper finally feels secure. She finally feels...loved. As if she can grow beyond the person she was when Jenna died. Then Kirsty's behaviour becomes more erratic. Why is her life a perfect mirror of Harper's? And why is she so obsessed with Harper's lost sister? Soon, Harper's closeness with Kirsty begins to threaten her other relationships, and her own sense of identity.
If you've been here a while, then you'll know very well that I'm a sucker for any Cat Clarke book. After finishing the Harry Potter series, her books (or at least those which had been published at the time) were a gateway for me into YA fiction. Her books, all of them, are page-turners that can easily be flown through in a couple of days. Clarke keeps you in her grip from start to finish, and never ceases to let you go, even for days after when your reeling from what just occured in 300 pages. Girlhood was no exception to this. This differed from Clarke's former books in many respects - it just had a different tone - but nevertheless, from page one, I knew I was once again being immersed in the words of one of my favourite authors.
The setup for Girlhood will appeal to any reader from the onset: Scottish boarding school surrounded by beautiful landscapes (but as a result very isolated from urbanisation), and a close-knit friendship group where whilst there's beauty on the surface, there are transparent splinterings underneath the surface. Logistically, the actual setting not only appeals to me as Hogwarts alumni and a lover of boarding-school books when I was younger, but it means that the tenseness of these friends can unfold in a manner which is naturalistic, and in the midst of the chaos that unfolds within these pages, creates a faul
tless
eerie atmosphere for the tenser scenes.
In many respects Girlhood is the perfect YA book. Clarke's books are known for discussing issues that need to be spoken about, or issues that occur in society that we need to be more aware of, such as teenage pregnancy, kidnapping, substance abuse - a more young adult version of Jacqueline Wilson's books if you will, but with an added sprinkle of thriller and mystery. But to top off this excellent formula, this book is incredibly diverse for a boarding school. Girlhood has the diversity we need to see in every YA book. Clarke seemlessly yet with such power pushes the undercurrents of class divides, ethnic diversity, and LGBTQ representation. It was so refreshing to see a lesbian and bisexual pair of roomates who don't end up together, and actively rebel against the assumptions surrounding them that they will. Girlhood criticises societal generic assumptions about LGBTQ+ peoples in a manner that we need to see everywhere, not just in the occasional book. Personally, Clarke's seventh book should be - regardless of genre -
the book that every other YA should aspire to be in terms of diversity.
Whilst I did love many aspects of this book, there were problems, some of which may just be personal to me. Having read every one of the author's books, I think I've reached the point where I see the twists coming and usually predict them correctly. Where the plot twists are coming, they should shock me, but instead have little to no effect. This is not a criticism of Clarke's books, because I have devoured and adored each and every one of them, and it isn't something that would be picked up on by the casual reader. I'll of course, continue to purchase and support this amazing author, but Girlhood wasn't the same emotional rollercoaster (that really it should be) as Torn, Entangled and Undone were, just because I've become used to the formula that occurs.
Overall, the book had an exciting, fast-moving plot, but I feel like the ending was too abrupt for me to be satisfied. Given all the buildup that had been occuring throughout the novel and the disturbing acts that had occured, I was disappointed to see such a sudden reconcilliation after what had happened. The ending was the sole part of Girlhood that felt like a rush to the finish line, rather than wrapping the book up properly and a little more realistically - because I don't think anyone would be that placid in accepting what just unfolded in the plot. Furthermore, because of the way this took place, some seeds of information felt like they were just seeds, rather than points that really could have done with flourishing. As an Anxiety sufferer, I was frustrated by how Ama's Anxiety was briefly mentioned as causing her trouble, but never given any more explanation than that. Instead where something needed to be depicted, it was concealed in order to continue to follow a narrator who seemed to be too ignorant to pick up on what was clearly going on from the start.
Girlhood is yet another whirlwind of a book from Cat Clarke, who at this point belongs with the writing gods in my eyes. Although I knew what was coming, and saw through every hurdle in the plot, the novel still kept me intrigued from start to finish, and left me with an emptiness of knowing I don't have another new Clarke novel to immerse myself in. It undeniably has its issues, but the portrayals of grief, wealth, sexuality, and the complexities of friendships were tremendous. I like every other reader, wait on baited breath to see what Clarke comes up with next...
Thank you so much to Nina for sending me Girlhood on behalf of Quercus for review. Girlhood was released on 4th May 2017, so go and grab your copies!